ABOUT CARL'S PRO BAND

Carl's Pro Band is a family owned and operated music store, comprised of truly professional repair technicians with 70+ years of combined experience. Led by veteran technician Carl Thacker who has been in the craft since 1975, the team includes Carl's highly accomplished son Travis Thacker, who apprenticed under Carl's watchful eye. Carl's oldest daughter Shannon Hord completes the team as store manager. Carl's Pro Band will exceed your expectations and treat you like family.
---
OUR STORY...
Carl's Pro Band began out of necessity in 1994 when Carl was hired as the Instrument Repair Technician at Illinois State University, requiring him to leave the music store he was working for. Carl began receiving phone calls at home from former clients that had developed a trust and respect for his work, and did not trust their instruments' maintenance to anyone else. He decided to open Carl's Professional Band Instrument Repair as a part time home-based repair shop geared towards continuing service for his longtime clientele. Carl worked evenings after a full day's work at Illinois State University (and weekends) to get all the work completed. In 1997 Carl decided to begin apprenticing his son Travis, who quickly began developing the skills necessary to handle brass repairs of all types. They were soon able to accomplish much more work than a one-man shop, and the business began to grow. Travis graduated with a Music Business degree from Illinois State University in 2004 and at that point embarked upon a full time career as a repair technician. This career choice allowed the shop to expand it's business hours, leading to even more work. They quickly realized the need for more space and moved to a commercial location in January 2006, giving them the opportunity to offer more products and services. After nearly eleven years at their first commercial location, Carl's Pro Band purchased a new larger and more centrally located building at 1806 E Empire St Service Rd in Bloomington in 2016. The new location has allowed them to expand their offerings even further, including music lesson studios and a larger array of instruments and accessories. Carl's Pro Band continues to thrive each year as their customer base grows beyond the Midwest, all the while keeping small town customer service and quality as their top priority.
---
TECHNICIANS & STAFF


Carl Thacker (Technician/Owner)
began his career in band instrument repair at age 16 in 1975 as an apprentice at a local retail music store. He continued working at that store over the next 18 years, and soon into his career was promoted to Service Manager. In 1994 Carl was hired as the Instrument Repair Technician for Illinois State University's Music Department, tasked with repairing and maintaining the University's vast inventory of 400+ instruments. Carl also started Carl's Professional Band Instrument Repair in 1994 as a small part time home-based repair shop, to serve his loyal clientele who searched high and low for him after leaving the local store. Carl created an Instrument Repair Course early in his career at ISU, which was geared towards preparing Music Education students for the emergencies they face as new band directors. After 20 years of service Carl retired from his position at Illinois State University in December of 2013, and is now dedicating all of his talents and energy to Carl's Pro Band. Carl is a Charter Member of the repair organization
NAPBIRT
and is an in demand clinician at many conferences and clinics throughout the US.
---

Travis Thacker
(Technician/Owner)
began apprenticing with Carl at age 15 in 1997, and has continued in his father's footsteps. Travis graduated from Illinois State University in 2004 earning a bachelor's degree in Music Business. Upon graduation he embarked upon a full-time career as a repair technician and business owner. Travis greatly appreciates the opportunity to learn from and work with a technician as skilled and knowledgeable as Carl, and has grown a large clientele of musicians throughout the Midwest and beyond. He partnered in business with Carl in 2008, and on top of his repair duties, also manages the day to day operations at Carl's Pro Band. Travis picked up where Carl left off, teaching the Emergency Instrument Repair course for future music educators at Illinois State University. He is also a very involved longtime member, clinician and has served twice as Regional Director for the repair organization
NAPBIRT
.
---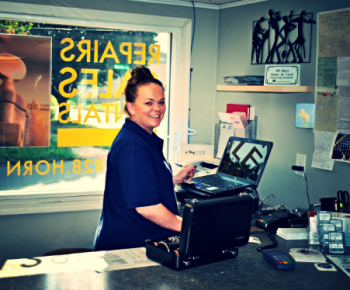 Shannon Hord (Store Manager)
came to Carl's Pro Band in September of 2015 with over a decade of retail managerial experience. She is the Store Manager and handles the many duties encompassing that position including invoicing, scheduling, instrument rentals, shop coordination and much more! Shannon is the friendly voice you will mostly likely hear when you call in, and she is available and willing to help. Shannon is Carl's oldest daughter and is helping Carl's Pro Band operate like a well oiled trumpet!
---
"I would trust Carl and Travis with my own child! It is challenging to find repairmen that can handle the repair needs of a tuba player,
and I am blessed that two of the best are right here in my hometown! They perform fantastic work on my large, cumbersome
tubas and I will continue to recommend their shop to all of my friends in the tuba world. Thanks for all of the fantastic work!"


- Andrew Rummel, professor of tuba at Illinois State University